Cannabis Sativa L.
Also known as: Hemp, cannabis hemp, Indian (India) hemp, true hemp, muggles, weed, pot, marijuana, reefer, grass, ganja, bhang, "the kind," dagga, herb, etc., all names for exactly the same plant.
What's in a Name?
(U.S. Geography)
HEMPstead, Long Island; HEMPstead County, Arkansas; HEMPstead, Texas; HEMPhill, North Carolina, HEMPfield, Pennsylvania, among others, were named after cannabis growing regions, or after family names derived from hemp growing.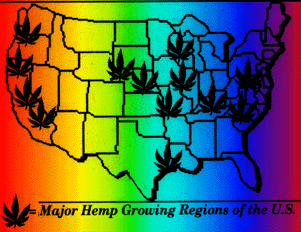 illustration colorized by Milo
alternative versions of some pictures
the authorized on-line version of Jack Herer's "The Emperor Wears No Clothes"
text from "The Emperor Wears No Clothes" © Jack Herer
CD-ROM and web presentation © 0=2
Donate now!
ElectricEmperor is a visitor supported educational web site
$100 donation $25 donation $10 donation