Wegen Hanf wurden Kriege geführt
So war beispielsweise der Zugang zu russischem Cannabis einer der Hauptgründe für den Krieg von 1812 (den Amerika gegen Großbritannien führte). Russischer Hanf war ebenfalls einer der wichtigsten Gründe dafür, daß Napoleon und die in sein kontinentales Bündnissystem einbezogenen Staaten 1812 in Rußland einmarschierten. (siehe Kapitel 11)
Nachdem im Jahre 1942 die Invasion der Philippinen durch die Japaner die Versorgung mit Manilahanf (»Abakahanf«) abgeschnitten hatte, verteilte die US-Regierung 400 000 Pfund Cannabissamen an die Farmer von Wisconsin bis Kentucky, die dann bis 1946 jährlich 42 000 Tonnen Hanffasern für Kriegszwecke produzierten.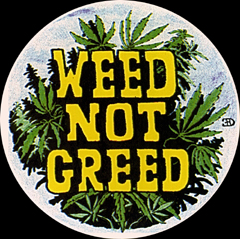 illustration © Derrick Hare from Velocity; courtesy of 1-800-HEMPMAN
IMPORTANT NOTE: This image may NOT be reused in your own personal web pages. Thank you for honoring the copyrights of the many donors to this CD-ROM.
English/Englische Originalausgabe
the authorized on-line version of Jack Herer's "The Emperor Wears No Clothes"
text from "The Emperor Wears No Clothes" © Jack Herer
CD-ROM and web presentation © 0=2
Donate now!
ElectricEmperor is a visitor supported educational web site
$100 donation $25 donation $10 donation



Return Button
Englische Originalausgabe: Copyright © 1985, 1986, 1991, 1992 by Jack Herer
Deutsche übersetzung: Copyright © 1993 bei Zweitausendeins, Postfach, D-60381 Frankfurt am Main

German version of the »Electric Emperor« converted to electronic form by Joe Wein.

own the cool CD-ROM own the best-selling book

[ table of contents ] [ e-store ] [ Electric Emperor web site ] [ Jack Herer's web site ] [ activist page ]