The extent of the marijuana threat in the 1930s is amply illustrated by this photo of an un-named drug smuggler in the years just prior to the enactment of hemp prohibition.
New York state had one narcotics officer at the time.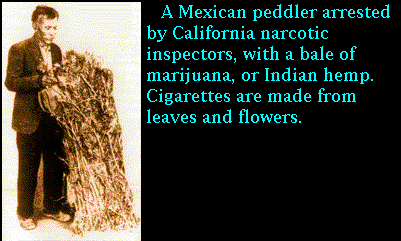 the authorized on-line version of Jack Herer's "The Emperor Wears No Clothes"
text from "The Emperor Wears No Clothes" © Jack Herer
CD-ROM and web presentation © 0=2
Donate now!
ElectricEmperor is a visitor supported educational web site
$100 donation $25 donation $10 donation