Cannabis Hanf
Hanf ist auch bekannt als: Cannabis, Indischer Hanf, echter Hanf, Pot, Marihuana, Reefer, Gras, Ganja, Bbang, »Stoff«, Kiff, Kraut usw. All das sind Namen für ein und dieselbe Pflanze.
Was Namen erzählen?
(U.S. Geography)
Hanf ist auf der Landkarte der Vereinigten Staaten überall zu finden: HEMPstead, Long Island; HEMPstead County, Arkansas; HEMPstead, Texas; HEMPhill, North Carolina, HEMPfield, Pennsylvania, und andere geographische Orte heißen entweder nach Gebieten, in denen man Cannabis anbaute, oder nach Familiennamen, die sich aus dem Hanfanbau ableiteten.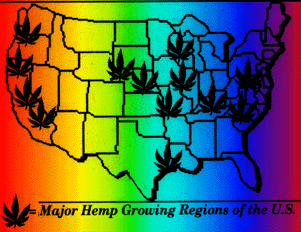 illustration colorized by Milo
alternative versions of some pictures
English/Englische Originalausgabe
the authorized on-line version of Jack Herer's "The Emperor Wears No Clothes"
text from "The Emperor Wears No Clothes" © Jack Herer
CD-ROM and web presentation © 0=2
$25 donation
$10 donation



Return Button
Englische Originalausgabe: Copyright © 1985, 1986, 1991, 1992 by Jack Herer
Deutsche übersetzung: Copyright © 1993 bei Zweitausendeins, Postfach, D-60381 Frankfurt am Main
German version of the »Electric Emperor« converted to electronic form by Joe Wein.
own the cool CD-ROM own the best-selling book
[ table of contents ] [ e-store ] [ Electric Emperor web site ] [ Jack Herer's web site ] [ activist page ]