"Christmas Song"
You need QuickTime 4.0 or later to play this MP3 sound.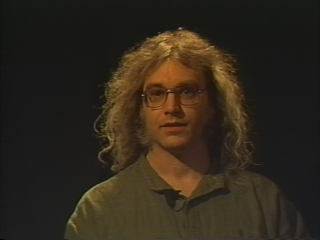 Milo
now playing:
Musical selection is "the Christmas Song", This Side of Sanity, © 1991 Milo.
This Side of Sanity
musicians who just don't fit into a single genre box
behind the music: This song started as the major class assignment in the first of four music theory classes required of music majors. The requirement was to write a complete cadence in the Western classical style. The professor (Dr. Smith) offered extra credit if the piece had Christmas related lyrics. Milo was feeling cynical with Christmas approaching. For the class, the piece was performed on piano, which kind of takes the punk rebellion bite out of it. The band did a great job of restoring that jaded Christmas spirit.
---
---
This Side of Sanity is:
Bill Turner (piano and keyboards)
Chip (guitar)
Dave (drums)
Deryl (bass)
Gabrielle (lead and backing vocals)
Gary (drums)
Jeff (keyboards and backing vocals)
John (guitar)
Milo (guitar and percussion)
Misha> (bass and backing vocals)
This Side of Sanity brought together musicians from widely diverse musical backgrounds to play music without genre borders. It probably isn't particularly commercial to ignore the limits of radio station formats, but musically it sure is much more satisfying to play whatever we find interesting or fun.
We don't have a record contract. We are making our music available for free download over the internet. If you like the music (or even just one song), how about supporting our direct distribution by sending us the money that would normally go to a record company? Send your money to Milo, PO Box 1361, Tustin, California, 92781, USA. Thanks!!!
radio airplay: This song has been played on KNAC-FM in Los Angeles, California. If you hear this song played on the radio, let me know which radio station and when so we can list it in the next edition of the Electric Emperor.
Return Buttons