Bird Tour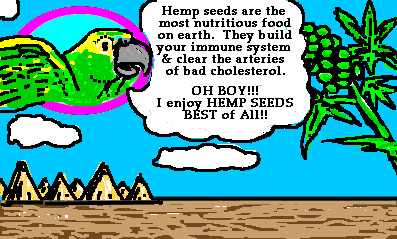 You need QuickTime 4.0 or later to play this MP3 sound.
illustration © 1996 Michael M
Permission granted for hempsters to use this image on their web site or in pro-hemp printed materials.
Hemp seeds are the most nutritious food on earth. They build your immune system & clear the arteries of bad cholesterol.
OH BOY!!! I enjoy HEMP SEEDS BEST of ALL!!
the authorized on-line version of Jack Herer's "The Emperor Wears No Clothes"
text from "The Emperor Wears No Clothes" © Jack Herer
CD-ROM and web presentation © 0=2