Bird Tour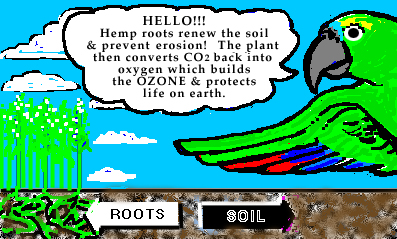 You need QuickTime 4.0 or later to play this MP3 sound.
illustration © 1996 Michael M
Permission granted for hempsters to use this image on their web site or in pro-hemp printed materials.
HELLO!!! Hemp roots renew the soil & prevent erosion! The plant then converts CO2 back into oxygen which builds the OZONE & protects life on earth.
the authorized on-line version of Jack Herer's "The Emperor Wears No Clothes"
text from "The Emperor Wears No Clothes" © Jack Herer
CD-ROM and web presentation © 0=2