ARTIST'S PREFACE
By January of 1995 I had just finished up a 2 year stint with the Hemp Booth on the Venice Beach boardwalk. Established in 1986 by Jack Herer, it's probably the oldest hemp education booth in the world. Every day I would push "the 600lb ship," hoist her ten banners, all of which I designed and lovingly hand lettered. After the hemp products were on display I would begin to "Hempnotize" or hemp educate the crowds. In two years I seriously helped to educate tens of thousands of people of all ages visually, verbally and then musically. On AristaCD, the Total Devastation hip hop album, (track 13 "Hemp, Hemp, Hooray! Relegalize today!") became an underground top 100 hit. But soon I realized it wasn't enough. I could only reach "x" when I wanted "omega."
One cold January day at a hemp rally on the grounds of the federal building in Westwood I spotted George Clayton Johnson talking to Jack Herer in an obviously excited state. As I walked closer, George caught sight of me and quickly summoned me over. He told me... "A couple of guys in Orange county are just about to produce a CD-Rom version of the "Emperor". "It's important for you to get in touch with them" he said, "Your art background and your perspective of the book would be invaluable."
I was about to begin work as art director with the Hempstead Co. But to mount two major projects at the same time could create more problems. But thanks to the Hempstead's CEO, Chris Boucher, I was given the latitude I needed to work on both.
The Electric Emperor has been a project filled with pain and sleepless nights but has also brought me to quite a few epiphanys. I'm very thankful for having met Milo and Majik two people I respect because of their respect for the Goddess. I wish to thank Captain Ed and Jack and all those who helped them document the facts we've all come to learn. Our goal is to reach as many minds as we can with the truth now in a digital format. You will find that this version has the art resources for media press material creation removed, and video presentations with music and lyrics substituted with the intention of getting some good hemp information to those who do not read. These presentations are front loaded for easy viewing while the reading-based presentation contains the updated version of Jack's words and an evolutional overview of the images which have appeared in the Emperor book during its various editions. As the Electric Emperor goes to DVD format, the entire collection of Emperor images will be included. The art work I personally created, which can be found in the folders of the Electric Emperor is not "copyright" but copy "it" right. In other words please feel free to use my visual aids in whatever way you deem necessary to convey the Goddess' love. They were drawn for that very purpose. You are free to manipulate the images as long as you stay true to their spirit. All other art resources and photos are for educational uses only. Thank you for choosing our CDrom for the digital dissemination of "The Emperor Wears No Clothes." This is the one battle that is worth fighting. Very soon, enough people will be educated about hemp, the revolution then turns green and the real party begins. The Goddess will once again reign supreme. Coming soon!
—safe journeys Michael M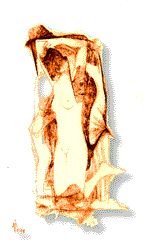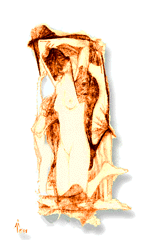 Click here for Hypervue
Musical selection is "Hemp Hemp Hooray", © Michael M & and Hypervue Trio.
---
To skip over the following introductory material:
Click on the buttons to choose a chapter.
the authorized on-line version of Jack Herer's "The Emperor Wears No Clothes"