Dedication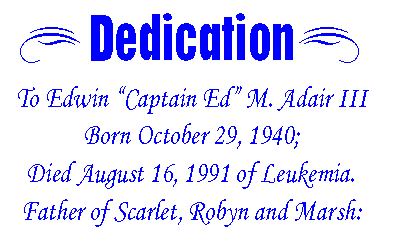 To Edwin "Captain Ed" M. Adair III
Born October 29, 1940;
Died August 16, 1991 of Leukemia
Father of Scarlet, Robyn, and Edwin Marsh IV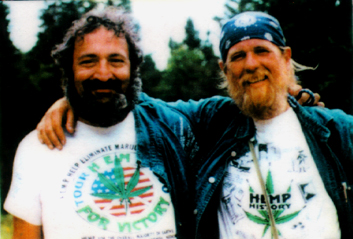 Jack Herer, left, and Captain Ed, right, at the 1990 Minnesota Rainbow Gathering
He was my teacher, partner, and friend; the bravest freedom fighter and the most honorable man for all humankind I've ever known.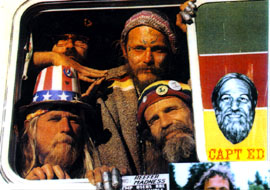 He taught many of us how to save the Earth from ourselves and to laugh at and yet love its enemies.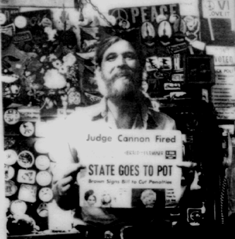 In 1974-75, possession of under an ounce of hemp/pot was decriminalized in the state of California. Captain Ed was 33 years old and I was 34. We took a pledge. At that time, virtually every one in the California pot movement thought we'd already won. They'd begun to drift away from the movement and had gone back to their lives, thinking the battle was over and we'd won, and that the politicians would clean up the loose ends…
Captain Ed didn't trust politicians to get the job done. And he was right.
Ed's pledge that I took in 1974 and again in April 1980, 1986, and 1988, and finally in the hospital four days before he died in August 1991, was that we'd swear to work every day to legalize marijuana and get all pot prisoners out of jail, until we were dead, marijuana was legal, or we could quit when weturned 84. We wouldn't have to quit, but we could.
When we first made that pledge we were 50 years away from becoming octogenarians (80-year-olds, that is). Incredibly, we thought that in the light of all the amazing information we had uncovered about hemp, that the battle for complete legalization of cannabis would easily be over in six months—two years at the most…
Captain Ed gave us and me hemp as one of mankind's most honorable and most important saviors. I vow to continue the fight, and I ask my fellow Californians, all Americans, and the rest of the world to join us.
July 15, 1998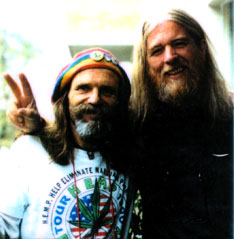 Dedication photographs donated by the Hempstead Company, 1534 East Edinger #7, Santa Ana, CA, 92705, 1-800-284-4367.
the authorized on-line version of Jack Herer's "The Emperor Wears No Clothes"
text from "The Emperor Wears No Clothes" © Jack Herer
CD-ROM and web presentation © 0=2
$25 donation
$10 donation
---
To skip over the following introductory material:
Click on the buttons to choose a chapter.
alternative versions of some pictures