Dedication
Für Edwin — Captain Ed. M. Adair III,
geboren am 29. September 1940,
gestorben an Leukämie am 16. August 1991,
den Vater von Scarlet, Robin und Marsh,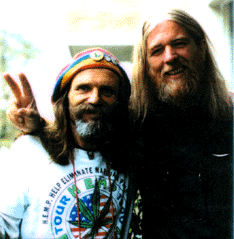 meinen Lehrer, Partner und Freund, den tapfersten Mitstreiter und größten Ehrenmann, dem ich im Leben begegnet bin.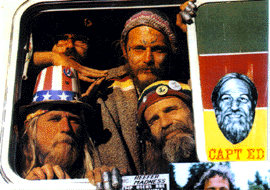 Er lehrte viele von uns, die Erde vor uns selbst zu retten, über ihre Feinde zu lachen und diese dennoch zu lieben.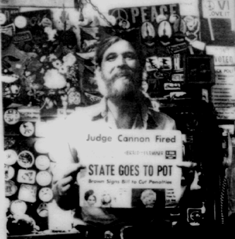 Zwanzig Jahre lang half Captain Ed Adair Jahr für Jahr, Hunderte und Tausende von Menschen in die radioaktive Wüste des atomaren Testgebietes von Nevada hinauszuführen. Friedlich trotzte er den von der Regierung aufgestellten Absperrungen und ging landeinwärts über radioaktiv hochbelastetes Gebiet. Mit seinem Mut hat er die Öffentlichkeit wachgerüttelt und dazu beigetragen, den Wahnsinn der Atomversuche zu beenden.
Er war es, der uns und mir die Augen dafür öffnete, daß Hanf die Menschheit retten kann und eine ihrer wichtigsten Hoffnungen ist.
24. April 1992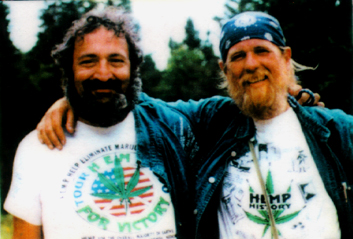 Dedication photographs donated by the Hempstead Company, 1534 East Edinger #7, Santa Ana, CA, 92705, 1-800-284-4367.
To skip over the following introductory material:
Click on the buttons to choose a chapter.
the authorized on-line version of Jack Herer's "The Emperor Wears No Clothes"
text from "The Emperor Wears No Clothes" © Jack Herer
CD-ROM and web presentation © 0=2
$25 donation
$10 donation


Return Button
Englische Originalausgabe: Copyright © 1985, 1986, 1991, 1992 by Jack Herer
Deutsche übersetzung: Copyright © 1993 bei Zweitausendeins, Postfach, D-60381 Frankfurt am Main
English/Englische Originalausgabe
German version of the »Electric Emperor« converted to electronic form by Joe Wein.