—EDITOR'S NOTE—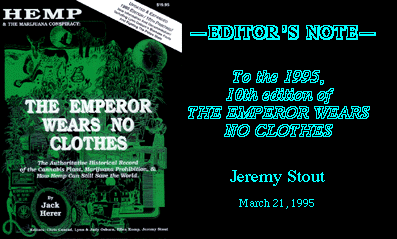 To the 1995, 10th edition of THE EMPEROR WEARS NO CLOTHES
Finally we have the 10th edition of The Emperor! A seemingly historic moment for this book, the author, and most importantly the information contained within. Our efforts are producing editions in Australia, Russia, Poland, Italy, and Japan this year: I have only one question on that note: Is there anyone we're missing? The world is reading The Emperor.
This year we have heard a number of arguments this edition will hopefully put to rest once and for all. Due to misunderstandings promulgated concerning the hemp-for-energy concept we are excerpting "Energy Farming" from ECO-HEMP, a book soon to be published by Lynn Osburn, along with his critical assessment of the hemp-as-biomass section of "Hemp Realities," published in the anthology, HEMP TODAY.
A major concern of this book is the fact that we live in a day where you or I could be sent to prison for something that any sane society would reward us for. Prison sentences are lengthening as the cells become more and more crowded. The "Fighting the Police State" pages show how the Correctional Peace Officers Union have manipulated themselves into the business of mass confinement.
A number of thanks go out to those who have helped the 1995 edition get to press: Ivy Tomashoff, for her typesetting wizardry; Emily Selden, for her late nights and high energy; Stephen Saunders, for brilliant technical advice; and mostly to Jack, who has been an inspiration to both greatness and madness with his dedication to truthful information.
With our current environmental standing (e.g., global warming, the "greenhouse effect", etc.) we need to see a change in the way we use our resources. The book you now hold is the seed for that change, help it grow.
Jeremy Stout
March 21, 1995
the authorized on-line version of Jack Herer's "The Emperor Wears No Clothes"
text from "The Emperor Wears No Clothes" © Jack Herer
CD-ROM and web presentation © 0=2
$25 donation
$10 donation
---
To skip over the following introductory material:
Click on the buttons to choose a chapter.